Late spring is such a beautiful time of year for a wedding at LaBelle Lake! Alisha and Nick had an incredible day full of love and celebration with their family and friends. I was so lucky to get to capture their beautiful wedding day! LaBelle Lake is one of my favorite wedding venues!
Getting Ready and First Looks
Alisha chose to get ready with all of her bridesmaids. They were such a fun group! Alisha and her maid of honor had a special moment putting on Alisha's veil and detachable skirt (which will make for a surprise second wedding look later on in the day!).
I had the chance to take capture some detail photos while Alisha finished getting ready. That included shoes, flowers, rings, vows, and jewelry. Flora Jean Florals did an amazing job on all of the florals! The purple color palette was so beautiful for a spring wedding.
I LOVE that Alisha wanted to do several first looks! First up was her mom. She probably had the best reaction!! Then Alisha revealed her final wedding look to all her bridesmaids. They all got emotional!!! Next, Alisha did a first look with her dad, which was another special moment for the two of them. Last of all was the groom. Alisha and Nick got to talk about how excited they were to get married before they each headed over to the ceremony site.
Wedding Ceremony by the Snake River at LaBelle Lake
My favorite ceremony spot for a wedding at LaBelle Lake is by the Snake River. The sound of the water is so peaceful and the river makes for an incredible backdrop. During the ceremony, Alisha and Nick shared their vows, laughed, and cried. They could not have looked happier when they walked down the aisle as husband and wife.
After the ceremony, we took some family portraits and photos with the bridesmaids and groomsmen. Next it was time for bride and groom portraits! The grounds at LaBelle Lake are absolutely beautiful for photos. There is such a wide variety of backdrops and everything is very well maintained. Just one more reason why I love weddings at LaBelle Lake!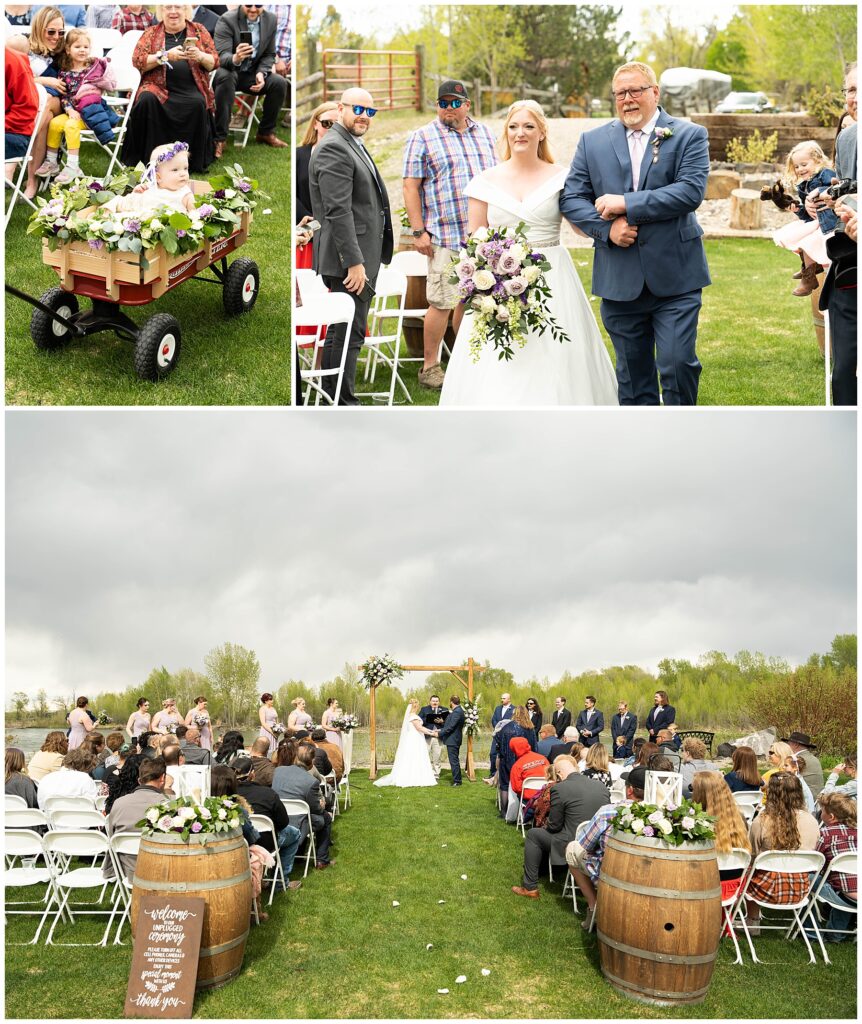 Dinner, Toasts, Dances, and Partying!
The reception was a total party! They started off the night with a quick dance party for their entrance. They they enjoyed dinner and some axe throwing! Afterwards, everyone was entertained with some excellent toasts, including a rap written and performed by the maid of honor. It was amazing!
The first dances were especially sweet. Alisha and her dad danced together, then Nick and all of the women had a special dance together. Nick's late mother was well-remembered during the entire day with a special spot for her during the ceremony and a decorated table of photos of her and those that were missed at the reception. Alisha and Nick shared a first dance and cut their beautiful cake by Paisley Cakes.
This group loved to dance, even when it started raining! The rain didn't last long and didn't put a damper on the party! They danced the night away after an amazing wedding day celebrating Alisha and Nick.
Congratulations to the happy couple!
Vendors
Venue: LaBelle Lake
Florist: Flora Jean Flowers
Hair & Makeup: Taylor Orr
Cake: Paisley Cakes
DJ: JayBay
Caterer: Blackhawk Catering
Photographer: em & co photography