Finding the perfect wedding venue is one of the first and most important steps to planning your dream wedding! Because your venue has such an impact on your big day (not to mention your budget!), be sure to do your research before booking your date. The following list of the best wedding venues in East Idaho is a great place to start your search and narrow down your options.
Wedding venues in East Idaho come in a wide range of styles and sizes — from rustic or classic, indoor or outdoor, large or small. A short description of each venue will give you an idea of style and accommodations. Location matters too! I have listed a few options in each of the main cities in East Idaho — Idaho Falls, Pocatello, Rigby, Rexburg, and Blackfoot — to help narrow down your search.
Wedding Venues in Idaho Falls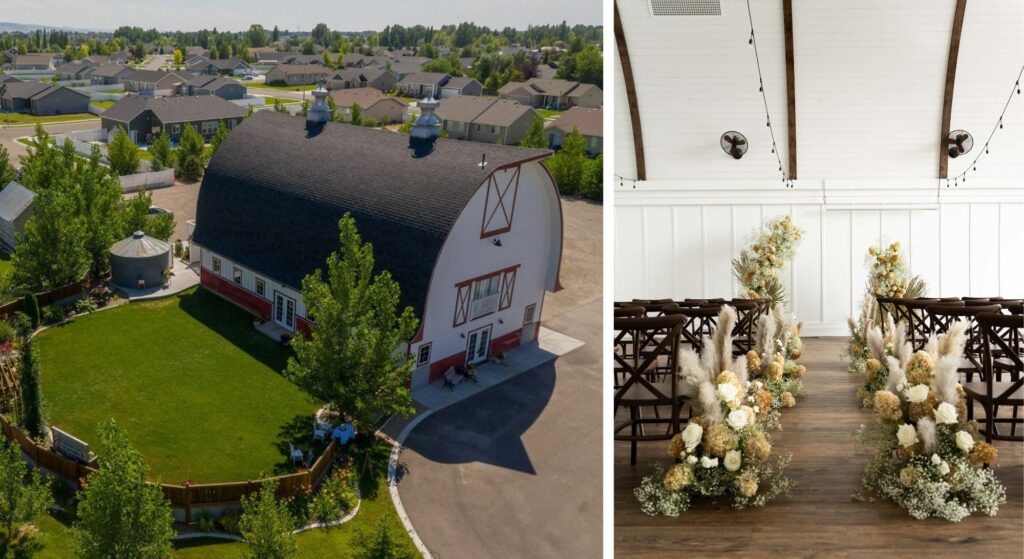 The Barn on 1st is a fully restored barn with a large outdoor space. It features 25-foot barrel ceilings, large windows, and white walls. The barn was recently renovated and given a clean new look, while maintaining its historic charm. The second story has a beautiful patio, and the outdoor area includes a large open grassy area, a wooden fence, and beautiful trees.
Occupancy: Maximum of 190 guests in the barn. Seating is provided for 150 guests.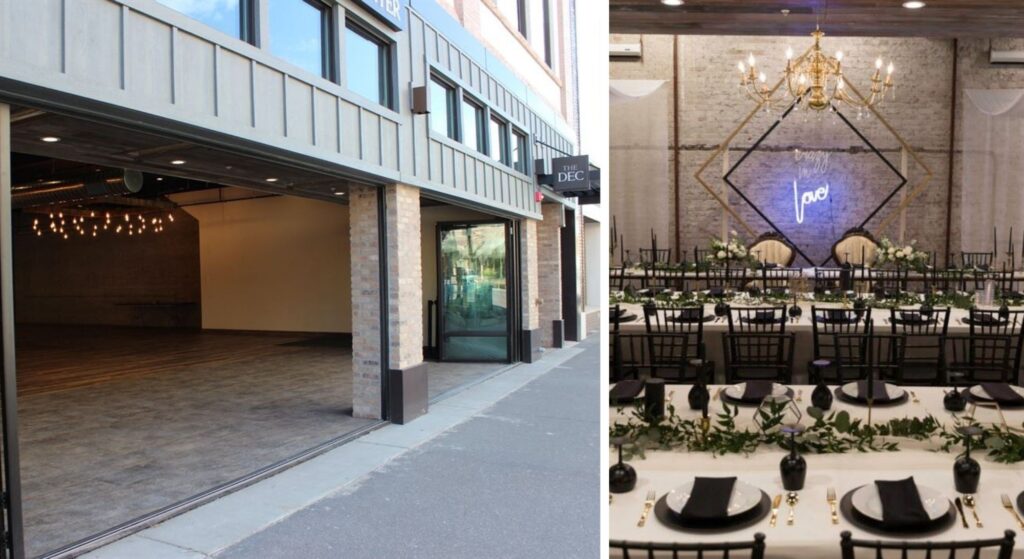 The DEC is a stunning venue in downtown Idaho Falls with a classy, stylish look. The exposed brick walls, wood flooring, bistro lighting, and two-sided fireplace make it the perfect space for a rustic, modern wedding. The retractable front facade can also open up completely to Park Avenue, creating the perfect spot for food trucks!
Occupancy: Maximum of 340 guests or 190 seated.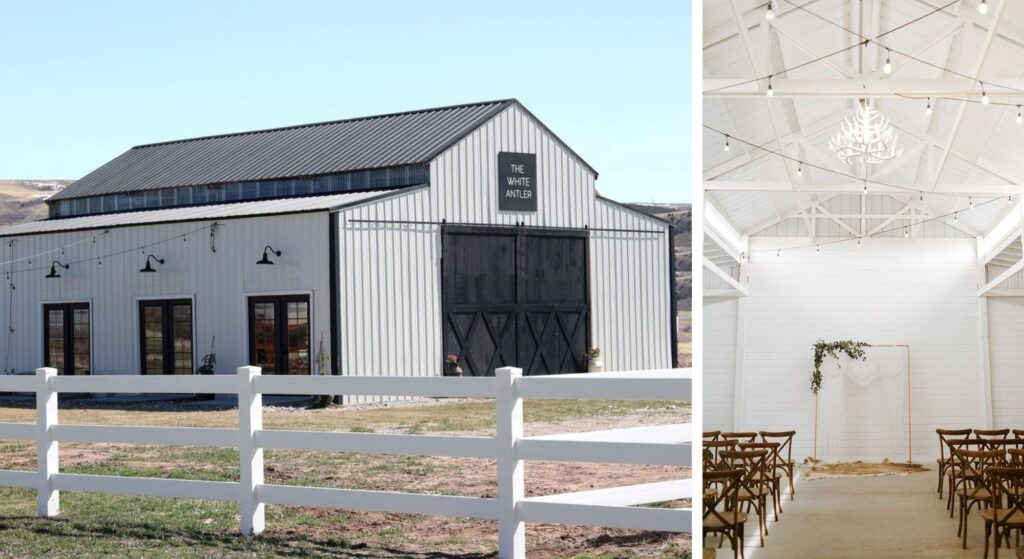 The White Antler Barn in Shelley, ID is a beautiful farmhouse style venue with a white shiplap interior. The space has beautiful natural light and is easily customizable. There is also an outdoor space where ceremonies can be held as well. The venue includes tables and chairs, and also offers event planning and a large selection of decor rentals!
Occupancy: Maximum of 150 guests, seating for 100 guests.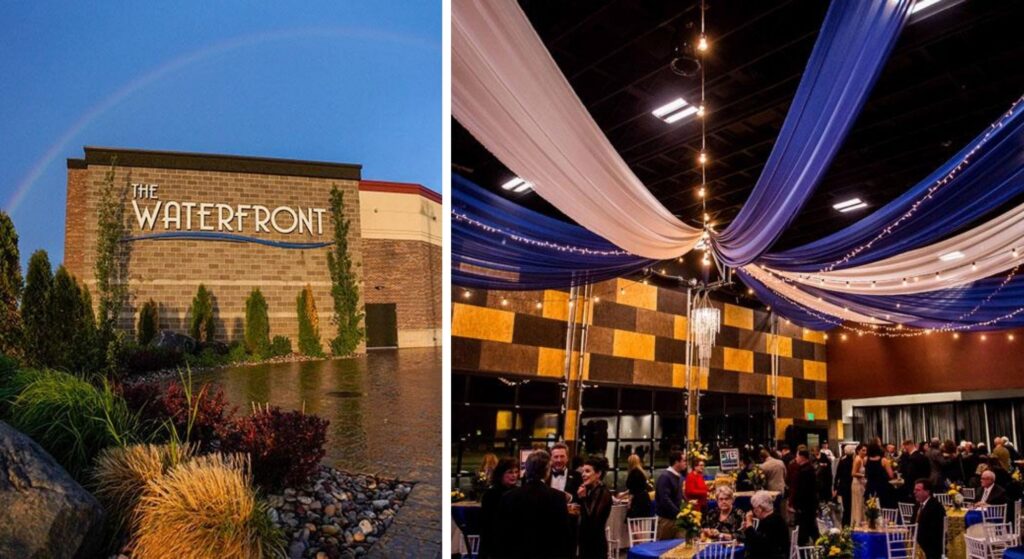 The Waterfront is a unique and versatile venue located in the heart of Snake River Landing, right next to the beautifully landscaped ponds. It offers 3,300 square feet of main floor space, plus a large stage. Three large garage-style doors quickly convert The Waterfront into an indoor/outdoor venue, giving access to the 1.5 acres of outdoor grounds.
Occupancy: Maximum of 522 guests, or up to 296 seated guests.
Wedding Venues in Pocatello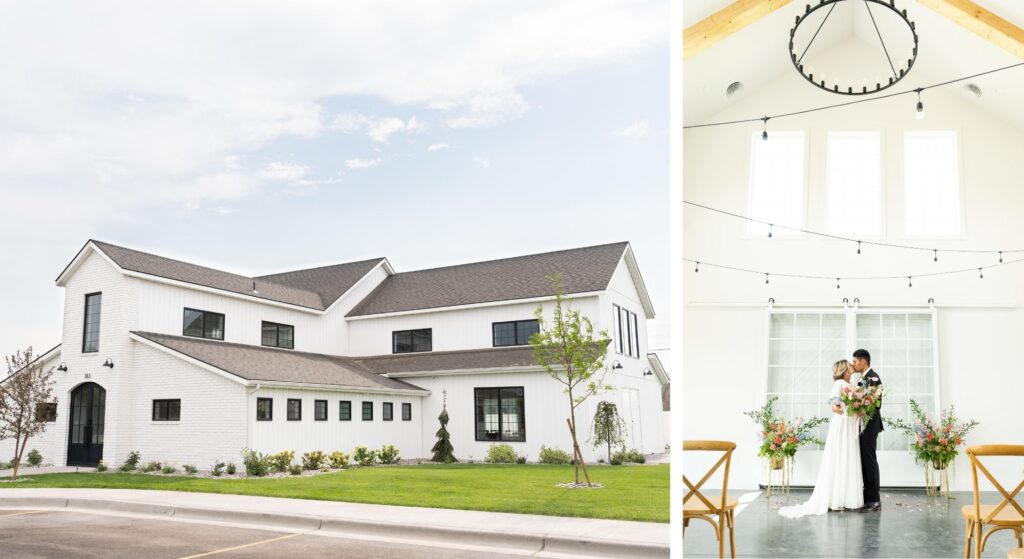 The Hive Venue was recently built by a photographer with easy, beautiful wedding photos in mind. It's the newest of all the wedding venues in East Idaho! The gorgeous natural light, high ceilings and white walls create the perfect space to make your wedding dreams come to life. The venue is gorgeous inside and out, with landscaping all around and space for outdoor ceremonies. The bride's room and groom's room are each tailored for functionality and style so that couples and their bridal parties have an awesome place to get ready. The owners truly thought of everything to make their venue the ideal place to get married!
Occupancy: Maximum of 200+ guests for a flowing reception, or seating provided for 150 guests.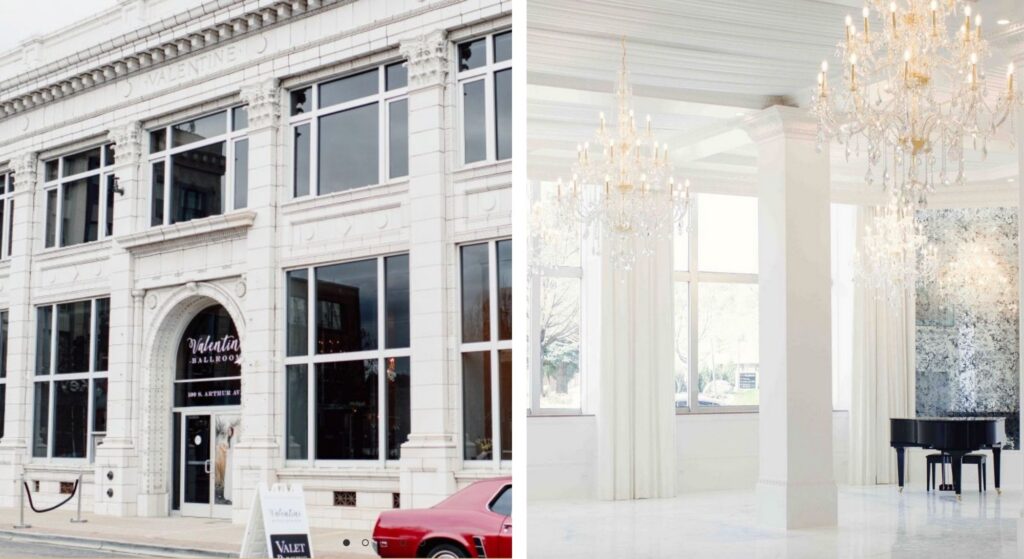 Valentine Ballroom is an elegant, luxurious wedding venue and bridal shop. The building was originally a bank built in 1916 and it has since been remodeled to accommodate gorgeous events. It features large chandeliers, white marble floors, high windows, a grand piano, and an 8-foot mantel and fireplace. It also has a full kitchen, a groom's room, and a bride's room. You can also take advantage of planning services and other amenities offered through the venue!
Occupancy: 100-150 for a sit down meal or ceremony, 400+ for flowing receptions.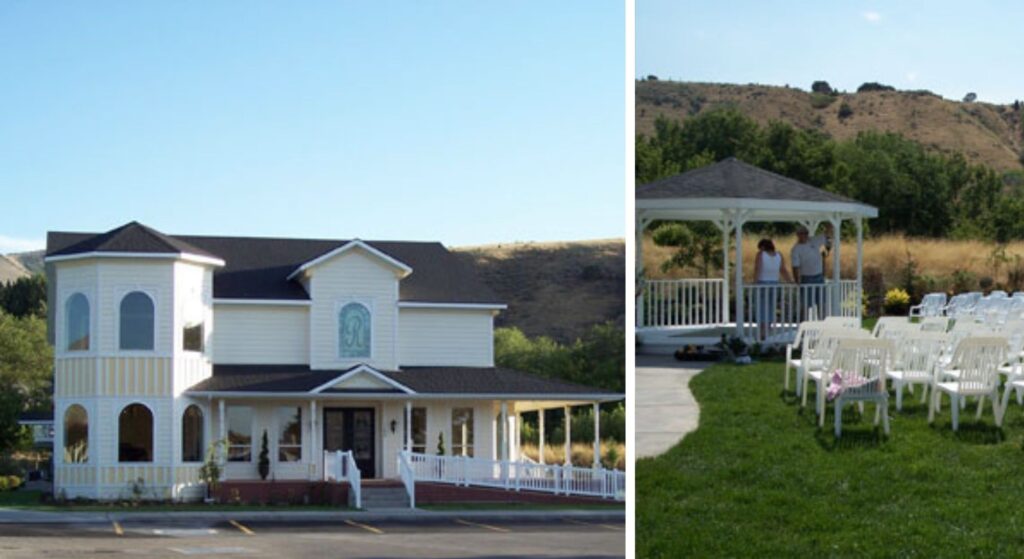 Rosewood Reception Center is a classy, two-story event venue. For your ceremony and reception, you can choose between the large main floor area or outside in the garden. The inside features crown molding, elegant decor, a large staircase, and a fireplace. The grounds have a beautiful 16' gazebo and various water fountains which create a delightful garden feel. 
Wedding Venues in Rigby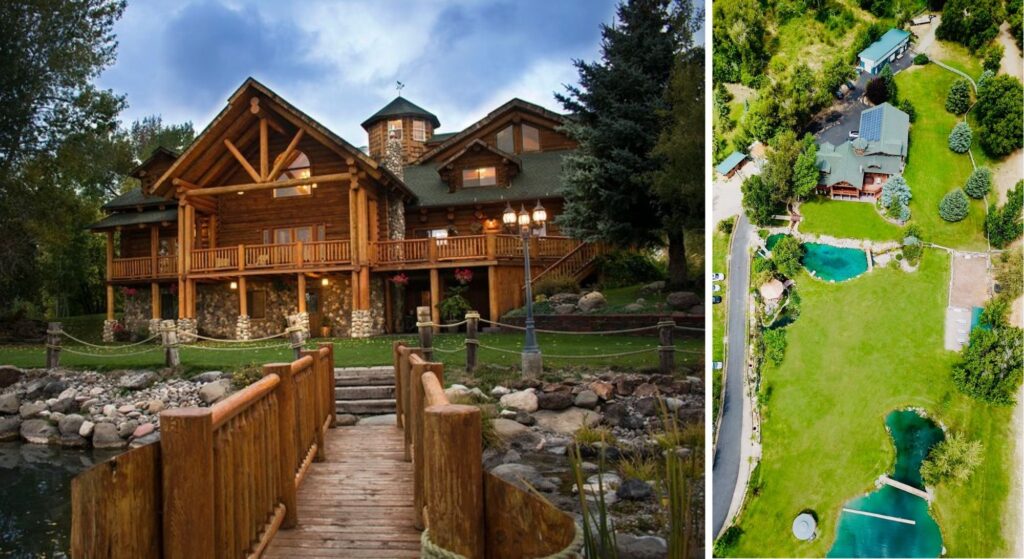 Labelle Lake is a gorgeous property right on the banks of the Snake River. The seven acres of beautifully landscaped yard also includes a 7,000 square foot cabin, multiple ponds, river access, bridges, nature paths, animals, and open lawns. This venue includes everything you need for an amazing wedding experience! They aim to create a truly stress-free wedding day with included ceremony coordination and rentals with set up and take down. Entertainment includes tomahawk throwing, paddling around the pond, ping pong and pool tables, and more! Your guests will love it! There are also several options for ceremony locations (my favorite is by the river!) and large white tents provided for receptions. They also offer overnight accommodations for family or a honeymoon.
Occupancy: Outdoor areas can accommodate large weddings up to 400+ guests.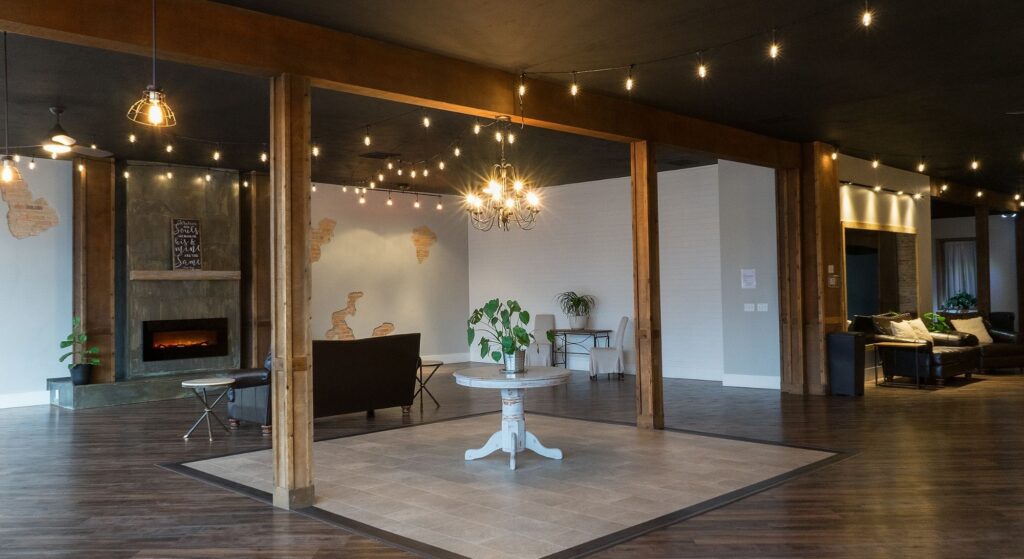 The Venue Studio is a space inspired by a New York loft with rustic accents. A variety of walls offer different backgrounds while still being neutral enough to go with various color schemes and design styles. The large, open concept venue features original brick, cedar, and metal accents throughout, as well as wood beams, wood floors, bistro lighting, a fireplace, and a variety of seating options.
Occupancy: Maximum of 300 guests for a flowing reception or 100-200 seated guests.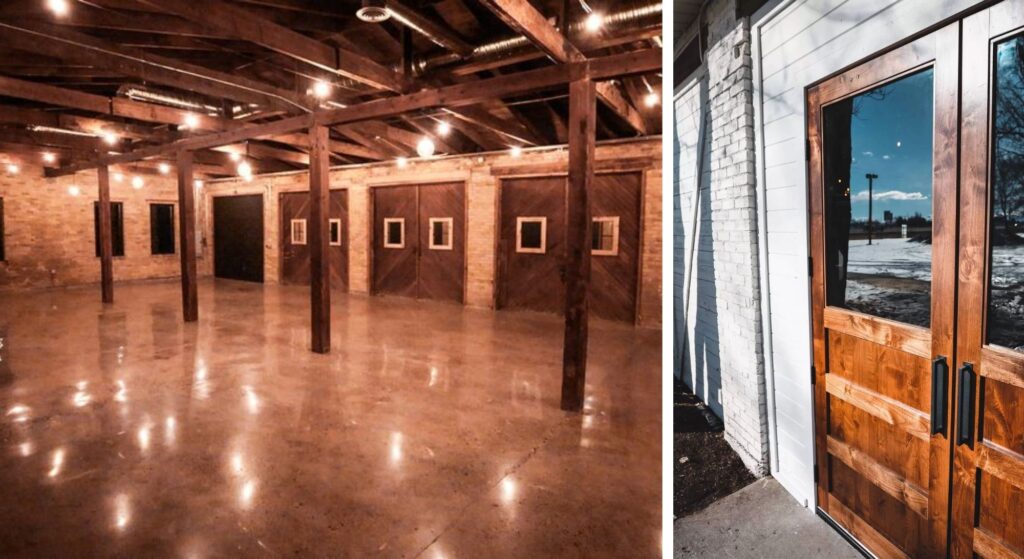 Millhouse Venue was originally used to store sugar beet trucks for the Rigby Sugar Mill back in 1919! Now it is full of rustic charm and personality from its long history. It features original brick walls with wood beams and a wood ceiling. Three oversized wood doors open to a beautiful garden which creates a seamless flow between the inside and outside areas. The outdoor yard was also recently updated and landscaped beautifully.
Occupancy: Maximum of 200 guests inside, seating provided for 140, up to 250 seated indoors and outdoors.
Wedding Venues in Rexburg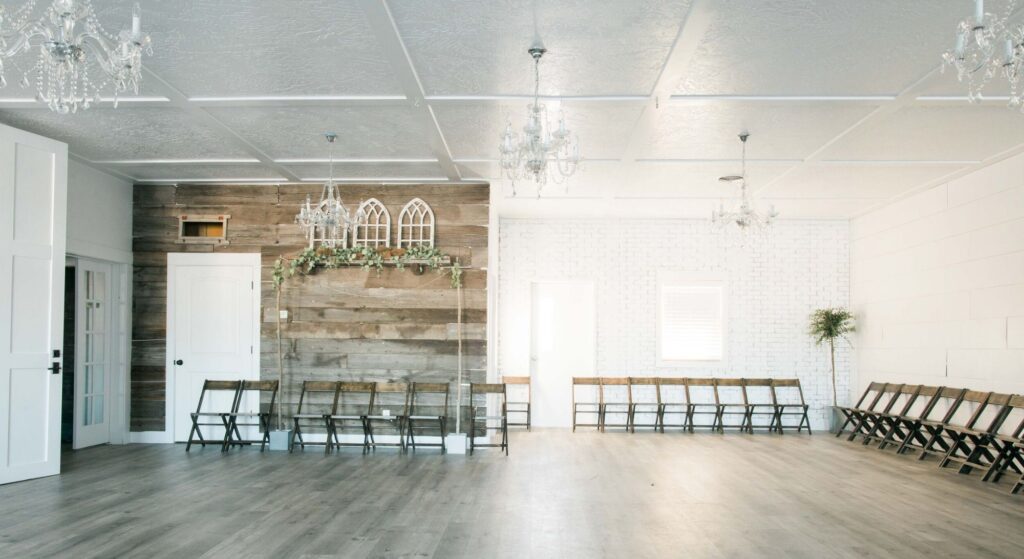 The Avenues  is an elegant venue with clean white walls and ceilings, an oversized decorative door, and lots of windows for natural light. It also has a wood slatted wall and a white brick wall for a variety of backdrops. The space is a beautiful blank canvas that can be molded to fit your needs. Additionally, they offer floral design and a dessert bar.
Occupancy: Maximum of 250+ guests for a flowing reception, or 100 seated guests.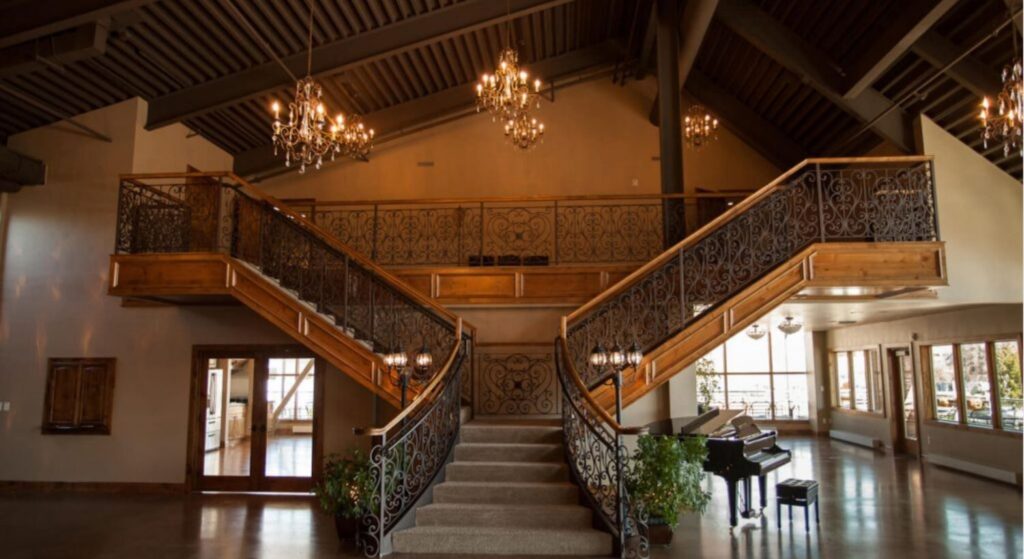 The Atrium is an elegant venue with wood and brick accents. A gorgeous staircase, floor to ceiling windows, and beautiful chandeliers allow for as much or as little decoration as you choose. A baby grand piano, a large waterfall, and arbor-sized doors add to the charm of the space.
Occupancy: Maximum of 300 guests, or 100 seated guests.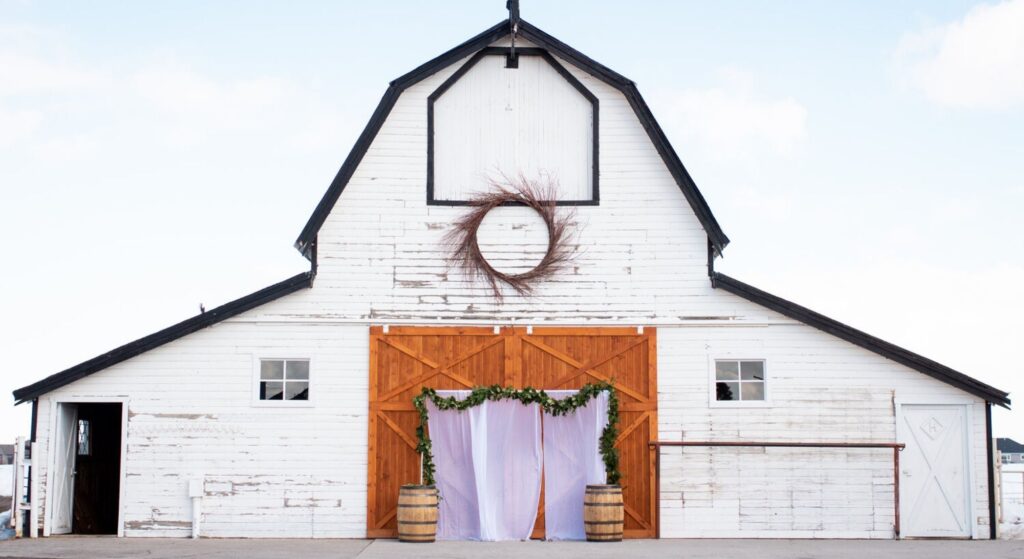 Emalee's Barn is a charming rustic white barn with a black roof and large barn doors. It was built about 100 years ago when a few neighboring families helped each other build their barns. The current owners of the barn actually got married in one of the neighboring barns! After their wedding, they decided to buy this one and turn it into an official event center. The interior has a high ceiling with exposed wood all around and a customizable chandelier. The venue also includes an outdoor courtyard and landscaped yard.
Occupancy: Maximum of 300+ guests indoors and outdoors, or 150 seated guests in the barn.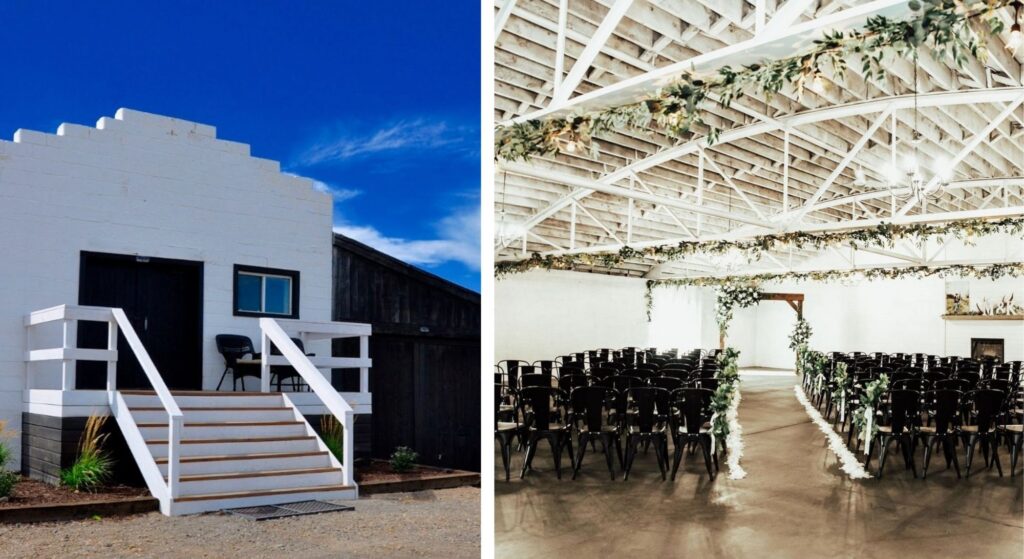 The Branch Line is a unique wedding and event venue located in St. Anthony, Idaho. It includes large indoor and outdoor spaces to accommodate a high number of guests. The white walls and ceiling and the polished cement floors create a blank canvas that can be customized to fit your wedding style. There is also a beautiful white fireplace, as well as a kitchen and bride and groom rooms.
Wedding Venues in Blackfoot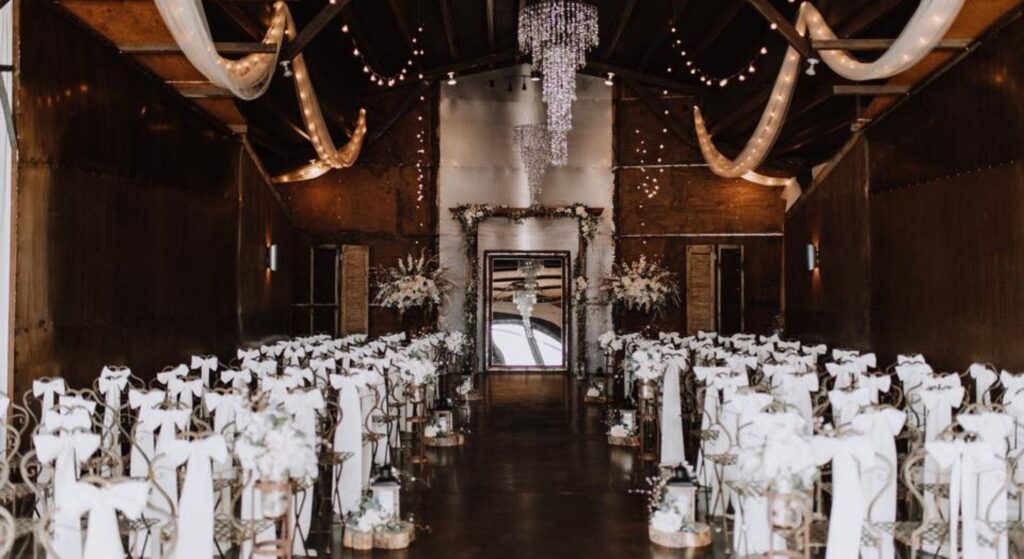 Rose River Receptions is a lovely indoor/outdoor venue that can accommodate a large number of guests during all seasons. It has a rustic vibe but can be customized to fit your vision. It sits right on the banks of the Snake River in a secluded area.
Occupancy: Seats 75+ guests.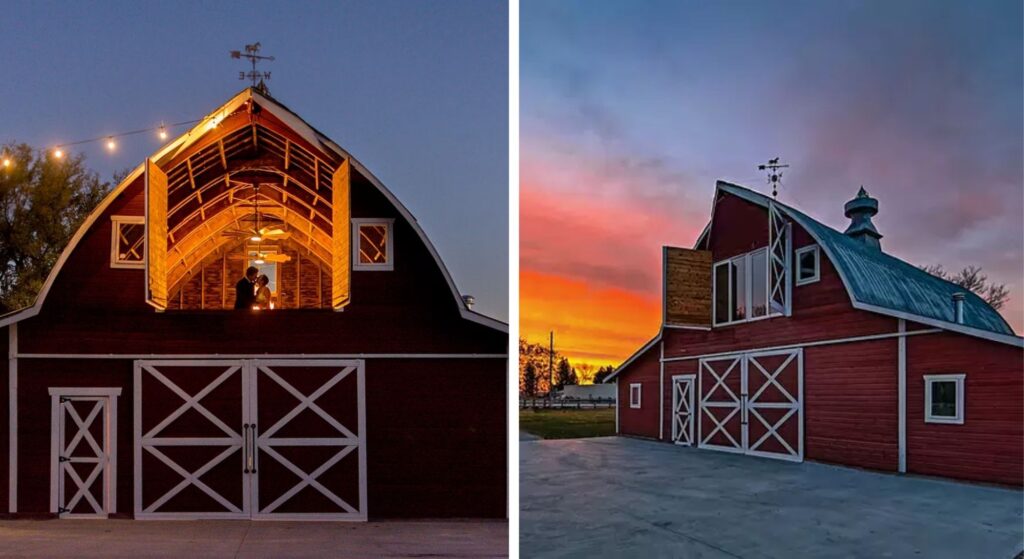 The Red Barn is a beautiful country event center with a rich history! The barn was originally built in 1910 and then moved to its current location in 1980. It has been well preserved and is the perfect place for a barn wedding. The outdoor area is well-kept and can accommodate outdoor ceremonies and receptions as well.
Occupancy: Maximum of 100 guests inside the barn, or 300 guests inside and outside.
Final Thoughts
I hope this list of the best wedding venues in East Idaho will help you find the perfect location for your dream wedding! I recommend choosing a few venues that you like the best, then scheduling tours at each one to see it in person and talk with the staff. Each venue has different policies and accommodations so make sure to take that into consideration! Once you decide on a venue, the rest of your wedding planning will fall into place much more easily. Happy planning!
Follow me on Instagram for more wedding tips!
Want to save this post for later? Pin it on Pinterest!
---
Hi, I'm Emma! I'm a wedding and portrait photographer based in Idaho Falls, Idaho! I also serve surrounding areas like Utah, Wyoming, and beyond. I offer bright, natural, timeless images for my clients with a seamless, enjoyable overall experience. Contact me about your wedding or session to get started!